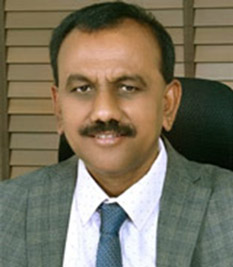 Vice-Chancellor's Message
I am glad to learn that, Karnataka Veterinary, Animal and Fisheries Sciences University Library Bidar is launching today a newly designed OPAC (Online Public Access Catalogue) developed by Open Source Software ILS Koha and website developed by a robust Content Management System) with multiple facilities for the students and faculties for accessing the library books, journals and documents from main campus library as well as from other libraries. This is a great achievement on the part of KVAFSU in general and the library in particular.
This event is a milestone in our history of KVAFSU and will go long way in our seamless quest for quality enhancement and improving the brand image of Karnataka Veterinary, Animal and Fisheries Sciences University, Bidar. The access of digital contents will help the students, faculty members and others who want to use our library facilities. The KVAFSU Library as a whole strives to help the university to achieve its vision to be "a centre of excellence in higher education with regional, national and global standing" while taking part in its mission and upholding its values.
The motive behind the organization and administra¬tion of the library is that every reader must find early information at any time. This motive to be fulfilled needs proper understanding by the users about the intricacies of library services and a good interaction between the users and library staff. I would like to congratulate and thank the library team that has taken the brunt of hardship in achieving this arduous task of digital library.
Dr. H.D. Narayanswamy
Vice-Chancellor
KVAFSU, Nandinagar,
BIDAR-585 403 Karnataka, India
Fax No. 08482-245108
Email ID: vckvafsu@yahoo.com, vckvafsub@gmail.com